Preparing for a Pelagic Trip
Westport Seabirds Pelagic Trips
Being prepared with the right clothing, equipment, food and beverages, a restful night before, and sensible eating will help ensure a successful pelagic trip.
Get a good nights rest. Elsewhere on this web site (Directions to Westport page), we provide some suggestions for motels that are reasonably priced, or call or e-mail us for further information on lodgings.
Bring a lunch and beverages. The boat has coffee, hot water, and fresh water, so please bring any other beverages you may want. Lunches should be ready to eat foods like sandwiches, fruit, crackers; making your lunch on the boat while you're trying to watch birds and hang on is not advised. Box lunches or lunch supplies can be purchased in Westport at the Shop N Kart Supermarket between 6AM and 9:00PM, located at the only stop light in town, about a mile south of the docks.
Dress warmly. Layered clothing works the best so you can adjust to temperature changes.

Bring rain gear.

Even if it does not rain it makes a great wind break, will keep any spray off, and will keep you warm. Water resistant shoes are also suggested to guard against rain or ocean spray.
Pack your things in a small backpack. Storage space is limited on the boat, so try and be as compact as possible. We do not have space for large coolers unless you're part of a large group. Fanny packs are very useful for keeping food, drink, notebook and other supplies close at hand.
Bring binoculars. They are a must if you are to have a successful trip. If you are bringing a camera be sure and bring an extra memory card. A soft cloth for cleaning optics is also a suggested items to bring. Spotting scopes are useless on the ocean.
Seasickness is possible. Medication (over the counter like Bonine and Dramamine or prescription types like the ear patch) may be advisable. You may want to check with your physician before taking any medications. Most medications need to be taken before the trip. If you become ill, fresh air, not drugs, will help you the most. Click on Seasickness page for further tips on preventing or managing seasickness.
Seabird and marine mammal reference books are available on board.
2018 Schedule
All of our trips go offshore to one of three deep water canyons approximately 28 miles offshore. These canyons are just beyond the edge of the continental shelf and reach water depths in excess of 3,000 feet.
Possible Species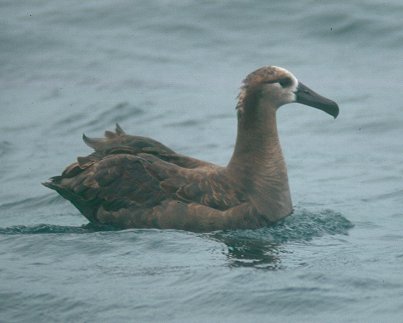 Birds that can be expected on most or all April – October trips: Black-footed Albatross, Northern Fulmar, Sooty Shearwater, Pink-footed Shearwater, Fork-tailed Storm-Petrel, Red-necked and Red Ph...